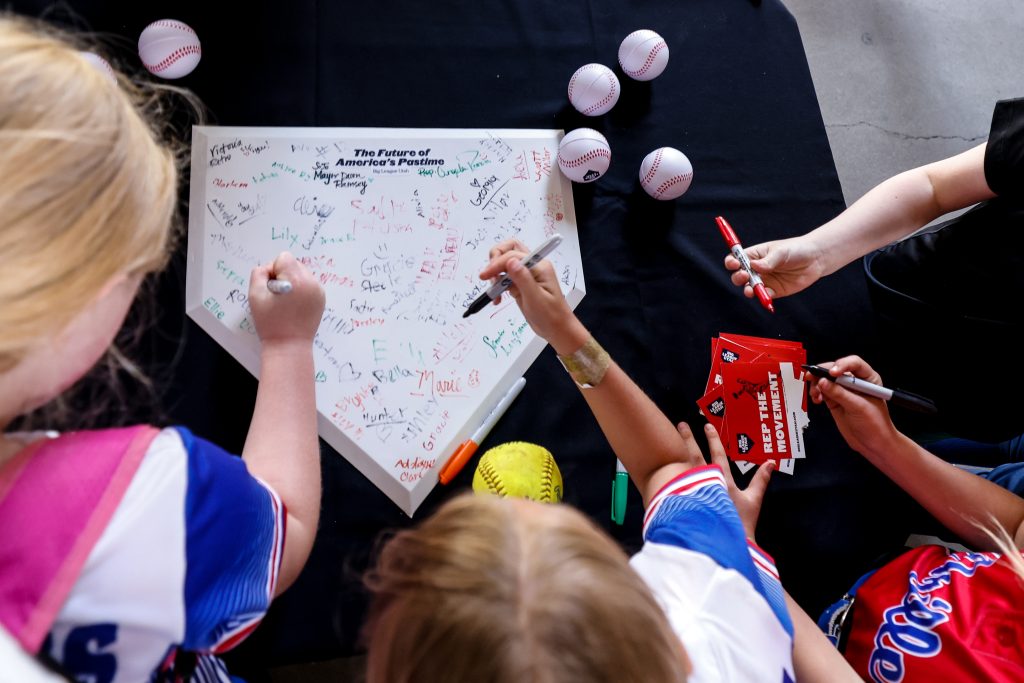 On June 9-10, the Salt Lake Bees participated in Major League Baseball's Play Ball Weekend, a global initiative encouraging participation in youth baseball and softball "from stadiums to sandlots."
"There is something really special about baseball and being on a field like this," noted Steve Starks, CEO of the Larry H. Miller Company. "You can make a great play, be a great teammate or show great sportsmanship. If you do those things, it will translate to every other aspect of your life."
This year, the Salt Lake Bees provided an unparalleled Play Ball experience. With record-setting attendance, the Play Ball festivities were divided into two full days specific to baseball and softball. Over the two days, nearly 1,000 youth players filled Smith's Ballpark for an action-packed weekend of clinics, round tables and more.
The first day, focused on baseball, and saw a capacity-reaching 500 youth players. The children participated in a clinic with engaging drills, games and competitions instructed by Bees players and members of local college baseball programs.
Afterward, the Bees hosted a coaching clinic with the Positive Coaches Alliance and a baseball roundtable. Panelists of the Q&A included Bees Manager Keith Johnson, BYU head coach Trent Pratt, Utah head coach Gary Henderson, alongside Utah natives and Major League veterans Cory Snyder and John Buck.
The next day, the Bees welcomed 350 youth softball players for a clinic and Women in Sports roundtable. Speakers included ESPN analysts and softball legends Amanda Scarborough, Jenny Dalton-Hill and Jen Schroder, as well as Weber State head coach Mary Kay Amicone.
Over the weekend, the athletes learned from the best while playing on a big-league field. On top of that, Play Ball Weekend unified and strengthened the local community. Players, families and coaches from different backgrounds connected through their love for the game. The tremendous occasion enriched the lives of many and showcased the powerful presence of baseball in the state of Utah.