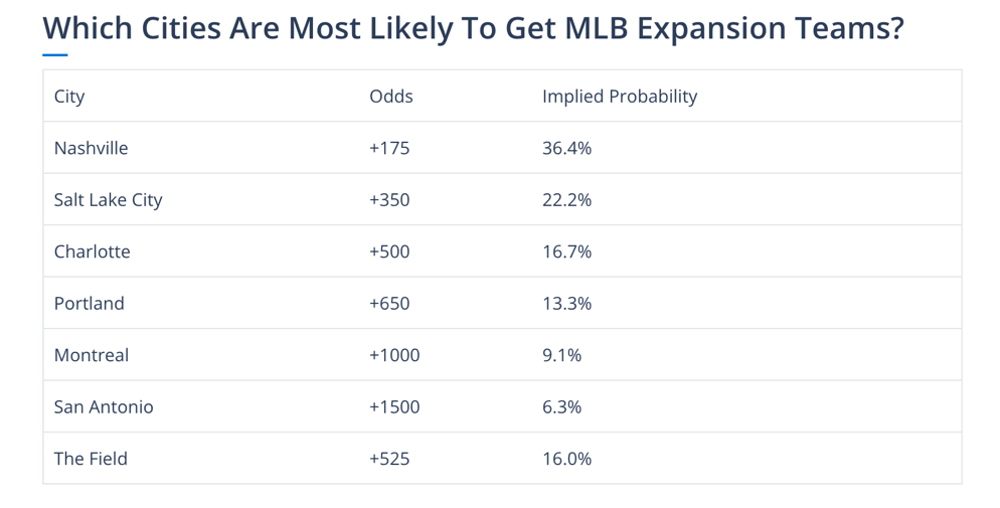 Utah is renowned for its booming economy, unmatched recreation and beautiful landscape. These, among other factors, all played into US News ranking the Beehive State as the best in the country for 2023. On top of this, many are now recognizing Utah as a serious contender to score a Major League Baseball team.
On June 15, Bookies analyst Adam Thompson updated his hypothetical odds for MLB expansion, ranking Salt Lake City as the #2 city most likely to score a Major League franchise. The city now sits just behind Nashville with +350 odds and a 22.2% implied probability of landing a team.
When Big League Utah was first announced in April, the oddsmaker sat down with KSL to discuss the chances of Utah winning the expansion race. The former Sandy resident described Salt Lake City as a favorable destination for MLB and praised the Miller-led coalition for their efforts.
"In terms of stadium plans, I think it's the best one — or, at worst, rivals the other ones," Thompson noted. "[Salt Lake City] really put their best foot forward with this plan."
MLB Commissioner Rob Manfred has expressed interest in expanding the league from 30 to 32 teams. Sitting at #2, Salt Lake City is in a prime position to land one of the two proposed franchises and play host to the first Major League expansion in 25 years.